Katherine's
boutique
caravan park
Immerse yourself in the lush landscaped gardens, giant shady trees and comfortable accommodation at Boab Caravan Park Katherine, situated on the doorstep to the breathtaking Nitmiluk National Park.
Boab Caravan Park will quickly become your favourite home away from home
Conveniently located at 42 Victoria Highway, Katherine, in the Northern Territory of Australia, Boab Caravan Park is set amongst sub-tropical gardens and is a secluded oasis on the doorstep to the breathtaking Nitmiluk National Park. Looking to relax? Visit a few of the Indigenous art galleries or go for a short stroll to the hot springs. Whether we're the beginning or the end of your journey, stay at the Boab Caravan Park Katherine to enjoy this unforgettable Top End destination.
We offer a range of accommodation to make your stay comfortable
Boab Caravan Park offers a diverse range of accommodation options including shady, grassed sites for caravans and motorhomes to boutique cabins, we are surrounded by beautiful sub-tropical gardens and native trees with an abundance of birdlife.
Grab a bite to eat from the Boab takeaway restaurant
Our takeaway restaurant provides everything from burgers and fries, through to complete meals if you would like a night off cooking.
We offer the following amenities
We have an abundance of amenities to make your stay at the Boab Caravan Park comfortable.
Barbeques

24/7 Security

Laundry
Groceries Store

Big Screen TV
Bottle Shop
EXPLORE NITMILUK NATIONAL PARK
Helicopter flight over Nitmiluk
Whether it's an intense 3 gorge buzz, a breathtaking 8 gorge flight or an aerial journey over all 13 gorges, there's a scenic flight to suit everyone.
VISIT A WORKING CATTLE STATION
Experience life in the outback
Let Tom Curtain give you a unique window into the inner workings of life on a cattle station through real horse-starting and working dog demonstrations, live music and story telling.
Photo: Shaana McNaught/Tourism NT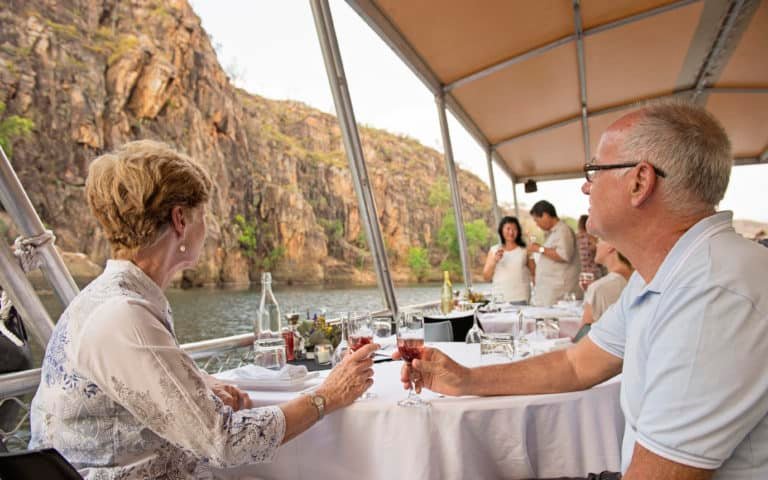 Photo: Shaana McNaught/Tourism NT
EXPLORE NITMILUK NATIONAL PARK
Sunset dinner cruise in Nitmiluk
Discover the stories and ways of the Jawoyn people against the magnificent backdrop of the Nitmiluk Gorge, changing colour with the setting sun.
Get in touch with us and we will respond as soon as possible.